NIKE Running: Firsts in the field
While at R/GA, I served as the de facto creative leader of the 9-person NIKE Running team that created the innovative features for that division, such as the original interactive online training log. During my nearly 2 years on the account, I led concepting and wrote copy for dozens of projects for the NIKErunning.com site, numerous interactive product features, event sites and displays, training programs, a library of training articles, and monthly newsletters.
Targeting young athletes and their obsession with stats: The first-ever interactive race replay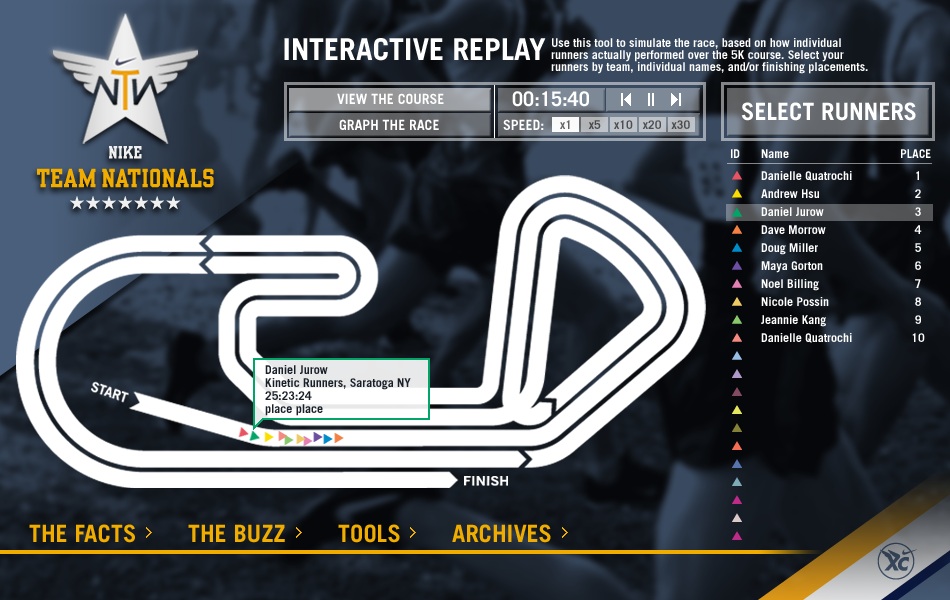 The insight? Teenage track athletes love to compare themselves and others. So we developed the Nike Team Nationals event: A 5K cross country invitational where the country's top high school runners wore chips on their shoes, crossing a mat at every kilometer, enabling their progress to be tracked both in real-time—and, to be reconstructed and analyzed later. The final product was a first-of-its kind feature where participants and observers could relive the race and compare all the participants' performances.
Running and music: Origins of NIKE + Apple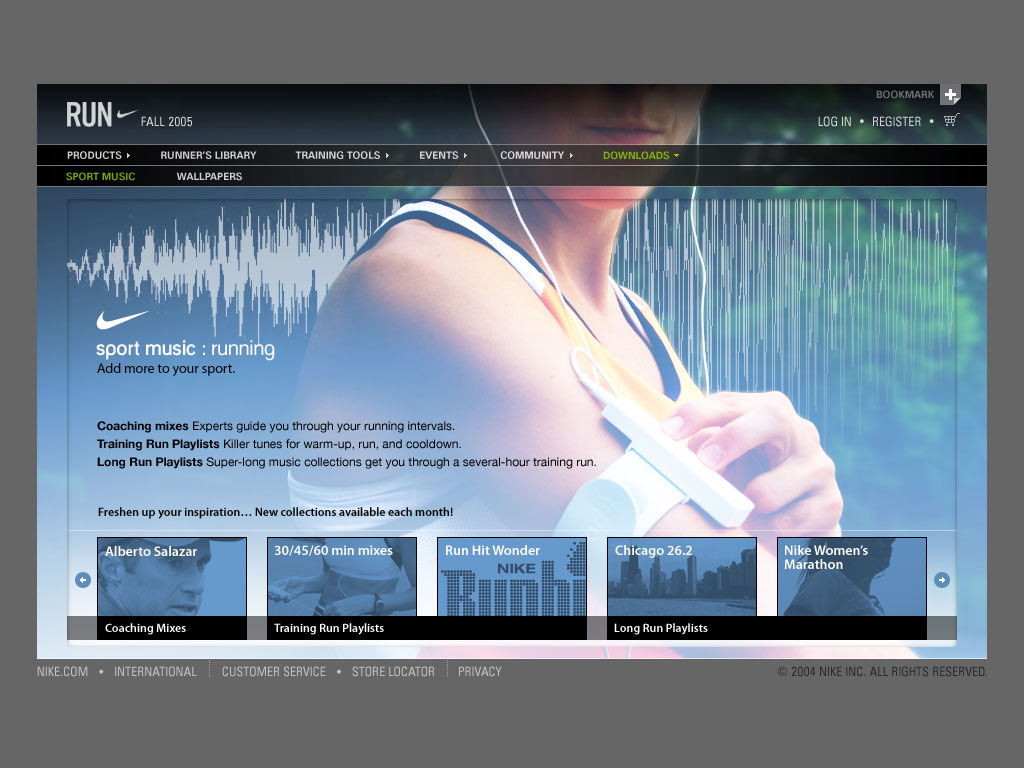 Research showed that music kept hobbyist runners on the trail. So our Nike+Apple initiative underscored the relationship between running and music, and provided downloadable training mixes synced to different paces and interspersed with commentary by legendary coaches, all designed to keep people on pace and motivated.
Before fitness trackers, the original online Training Log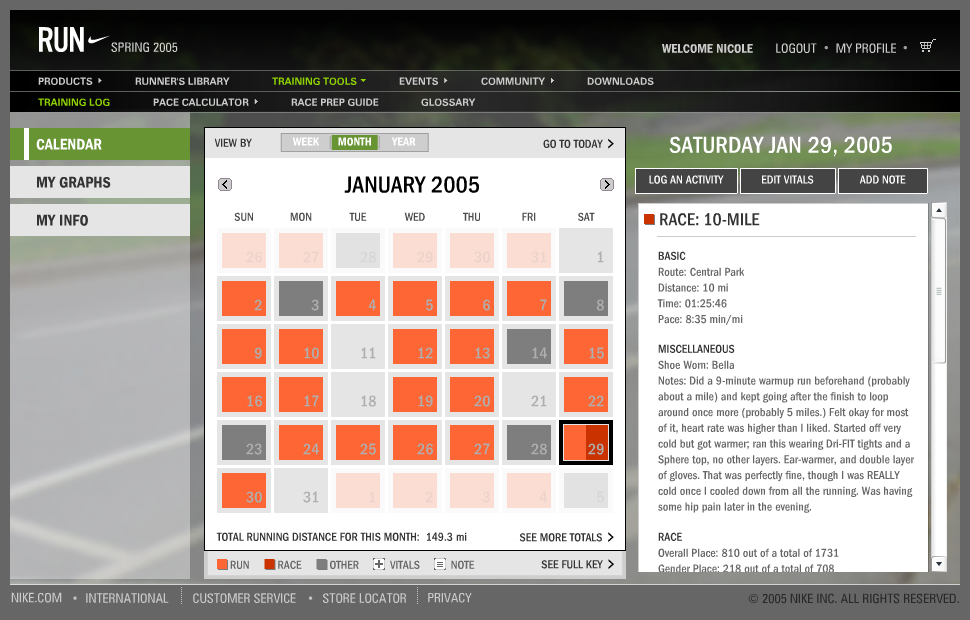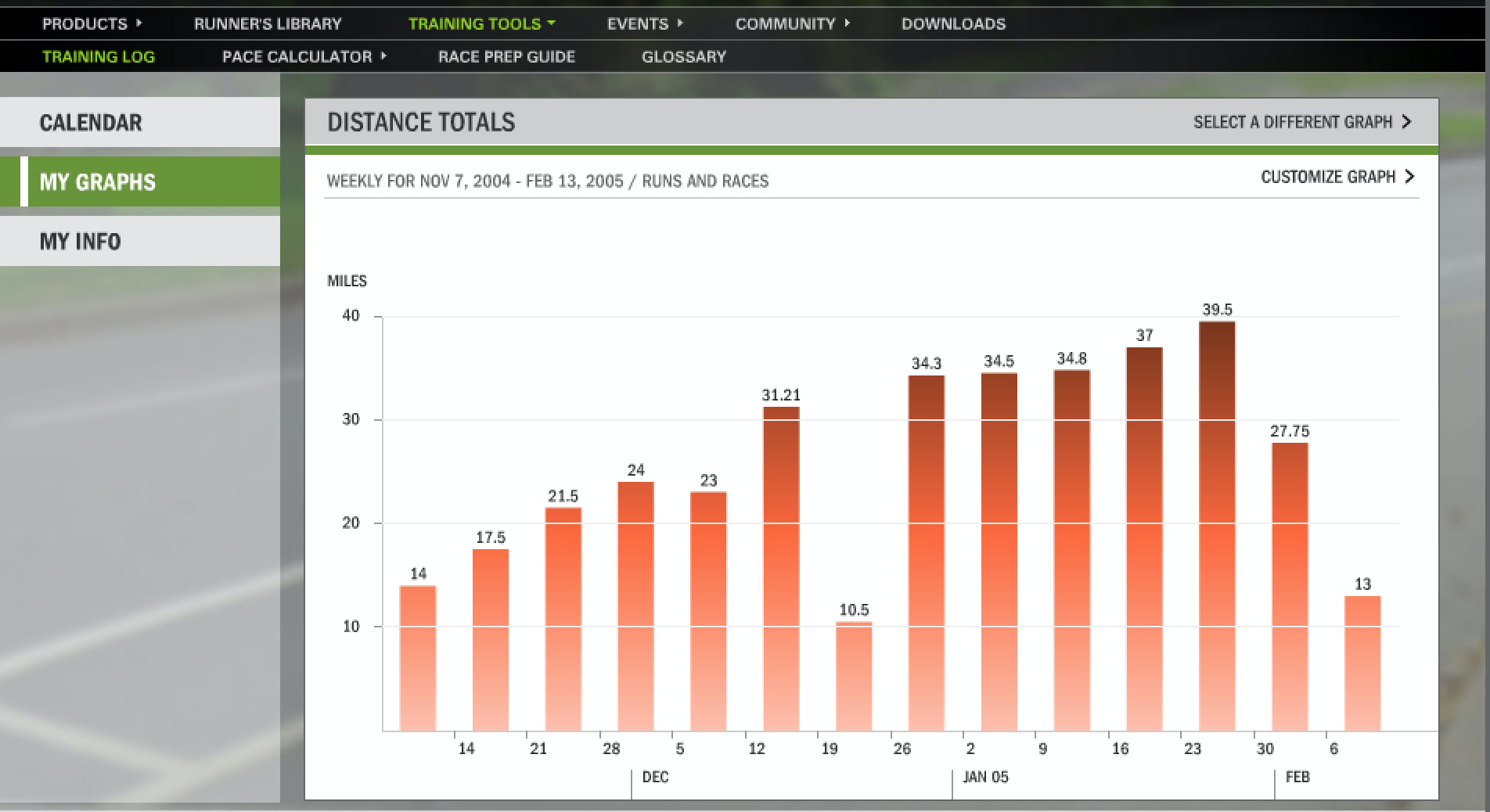 My team was responsible for creating and maintaining the most robust online training log that existed at the time, which brought thousands of runners to engage with NIKE on a daily to weekly basis. Long before Fitbit, Strava, or even Nike+, this log allowed people to enter workout information, as well as factors like weather and shoe mileage; and to graph their stats. We pushed content into the Log from our Runners' Library and newsletter, increasing visibility of the material and drawing visitors back to the main site.
Marathon promotions: showcasing and supporting real runners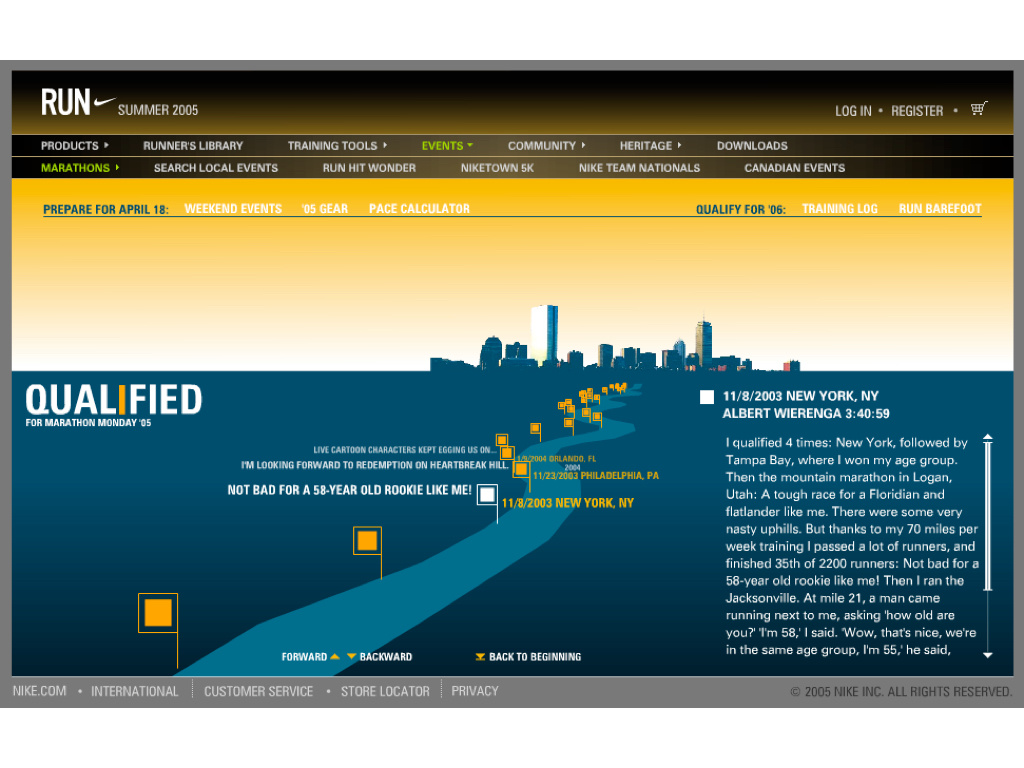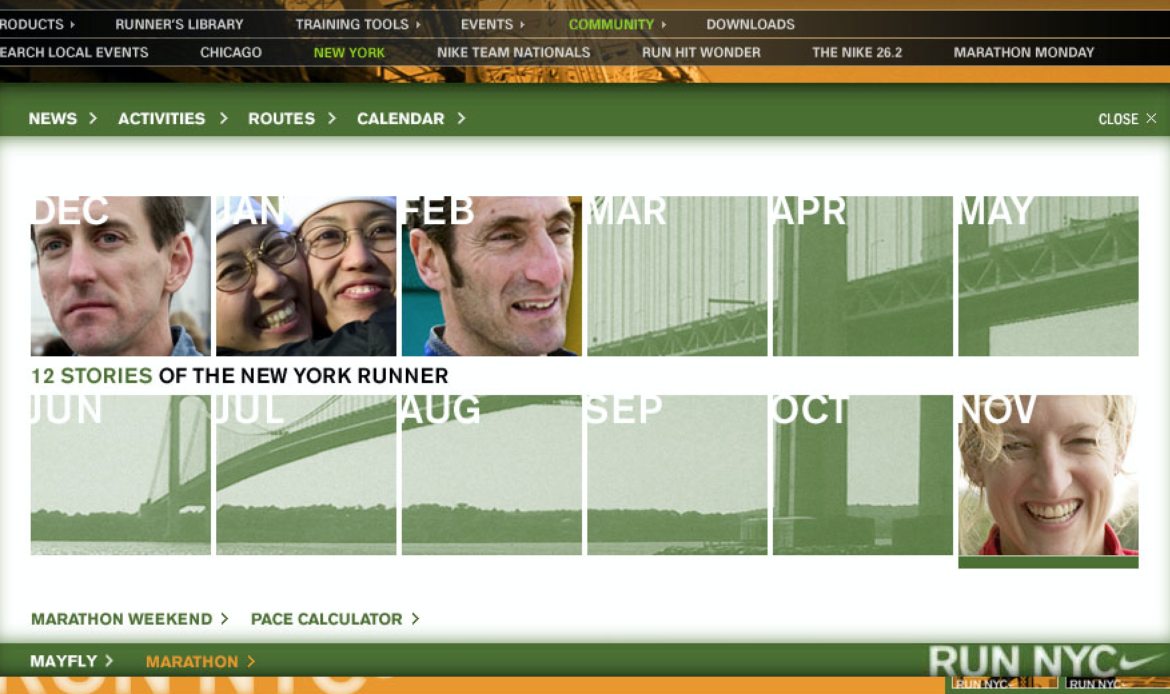 Multiple times throughout the year, we were called to develop a feature around a race event to engage runners. For the major marathons, we participated in the event expositions with a booth providing customized pace bracelets. For our online features, we typically crowd-sourced our content from real runners: For Boston, inviting runners to share their stories of the races they completed in order to qualify; and for New York, portraits of individual runners year-round, with accompanying mini-podcasts.
Celebrity interviews, new product launch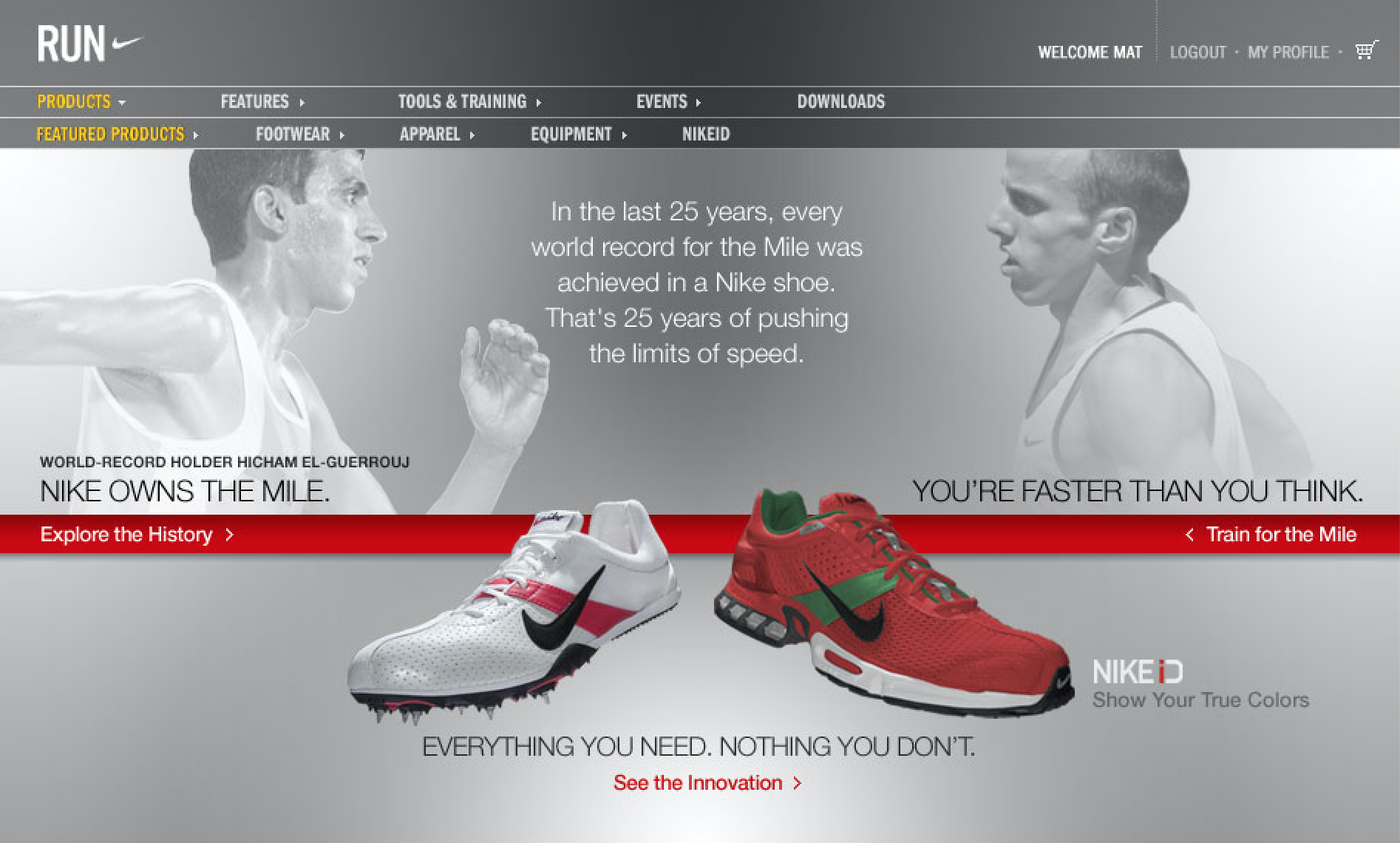 Continually challenged to develop with new features to launch, promote, and describe new sneaker products and technologies, we constantly had to concept fresh ideas for promotion. For this feature, I interviewed two legendary runners of the mile–the American record-holder Alan Webb, and the World Record holder Hijam El-Girouj–to promote the Zoom Miler's speedy benefits.