YAHOO! Breakthrough Women's Health Study
CHALLENGE: Synthesize the results of a study sponsored by Yahoo! and Digitas Health, which interviewed more than 150 women across three cities and surveyed another 3000 nationally.
SOLUTION: After attending all of the interview sessions, I selected an animation concept that would have the flexibility to tease abstract concepts as well as give extend the idea of women's multi-faceted aspects and attitudes.
RESULTS: The piece promoted three "road-show" style panel talks featuring leaders at Digitas Health, Yahoo, and other local women influencers, targeting specific attendees related to the health marketing industry. Attendance at each event was fully subscribed.
Raising awareness about COPD
The video below summarizes the full campaign. Scroll down for details about the challenge, insight, solution, and results.
CHALLENGE: Most COPD sufferers–typically former smokers–go without diagnosis for 7-15 years, which translates into a lack of treatment…and the potential of the condition to get worse.
INSIGHT: Potential COPD patients need to know that the condition exists; need to see what it looks like; and need to recognize themselves.
SOLUTION: An educational website and campaign called KnowCOPD. The site included an interactive lung tour animation, disease information, a call to activism, and three video series, each with 4 videos.
RESULTS: The website and initiative was featured on The Today Show; signups for information exceeded metrics objectives; the client credited promotional materials with an uptick in physician requests.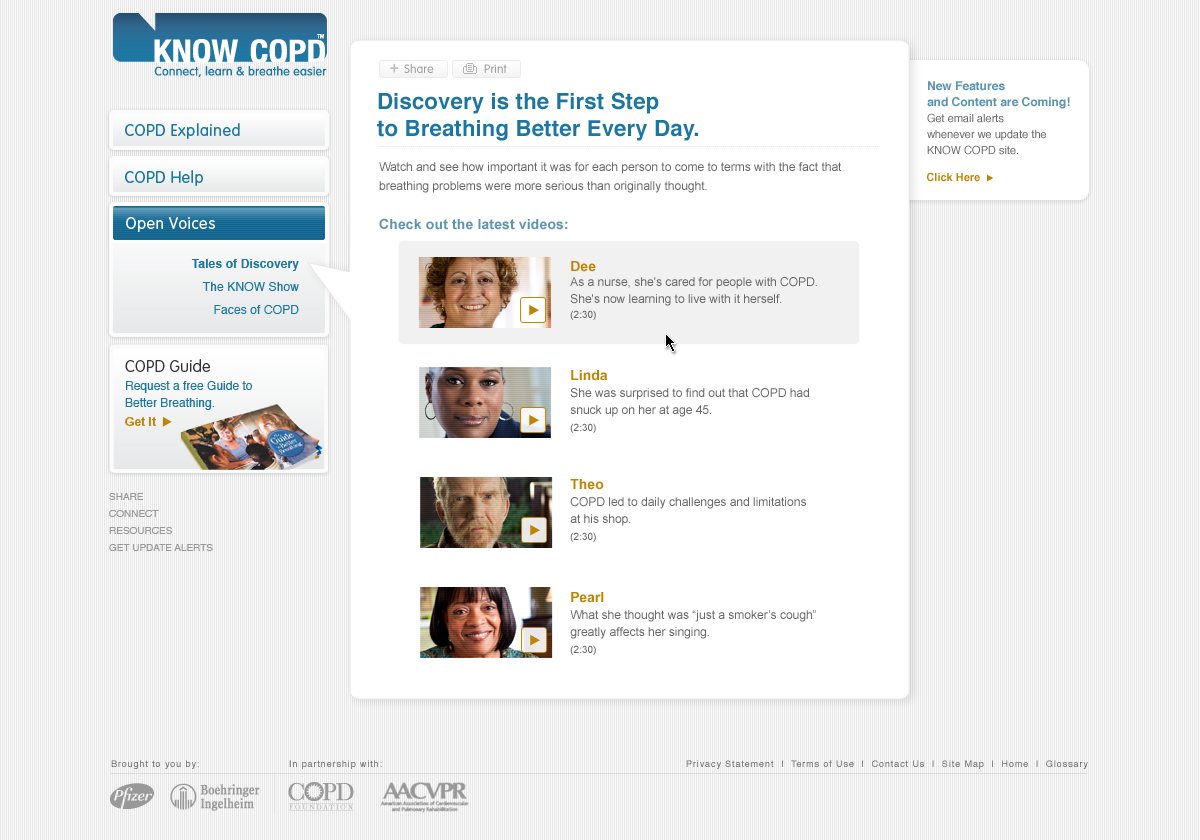 To help undiagnosed COPD sufferers recognize themselves, the "Undiagnosed, Untreated" videos presented portraits of real people struggling with their breathing and, as a result, with everyday tasks.
The below video is from the "KnowShow" videos, a series of "man-on-the-street" pieces shot at a health fair, an approach considered–at the time–ahead of their time.
To view a comprehensive pharmaceutical / healthcare portfolio, contact me for a password to the page below: